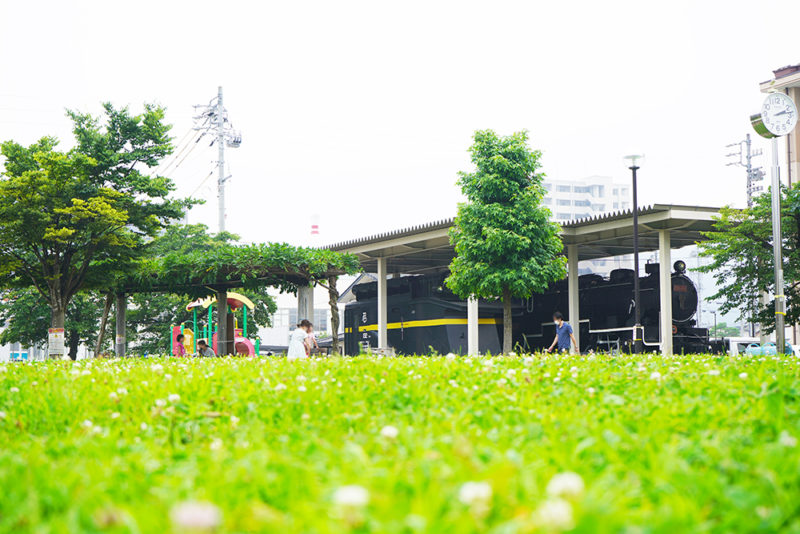 "Poppo Park" is the nearest park from Takayma station.
We often go to the park which is know as "Poppo park" on a sunny day.
"Poppo" is a train's steam whistle sound in Japanese.
We hear this sound like "Poppo".
It's near Takayama station.
It has large lawn space, roofed bench, a few playground equipment and water place.
We able to reading book on a bench, walking, of course playing.
Syowa children's park, know as "Poppo Park".
It's located 500 meters from Takayama station's west gate, just 5 minutes by walk.
Syowa children's park, know as "Poppo Park".
Why it called "Poppo", there is a big steam locomotive!
We are not allowed to ride on it but sometimes can ride small one on weekend.
It has a rail that is 190 meter long in a parking and run it on that rail.
Also ride fare is free.
If it's not busy, your kids can ride it many times over!
He addicted to insect collecting.
He found a dragonfly.
There is a children center next to the park and we can use diaper changing station in it if you need.
I recommend to eat lunch in the park because we able to get foods near here.
People hold a picnic in nice weather.
If you not decided yet today, how about to go the park?
informaton
Poppo park, Syowa children's park
1-45 2 cho-me Syouwa-cho,Takayama,Gifu