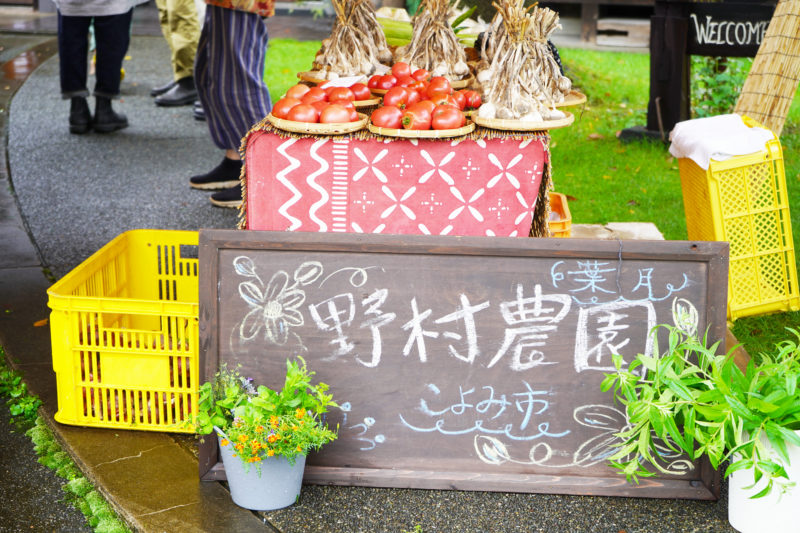 We went to "Koyomi market" in Kokufu on every fourth Saturday.
The restaurant ichiri in Takayama held local market "Koyoumi market" and I went there!
We suffered COVID-19, continual rain for a month and disaster of rain in this year…
but things are getting back to normal, they start it again.
It reopened every fourth Saturday.
What about "Koyomi market"?
ichiri organize Koyomi market and they sell organic vegetables, natural yeast bread and spices…
The market held garage kitchen of Hakuguri estate agent at Kokufu, Takayama.
It located between Takayama and Furukawa, close by Super market Shimaya Lacour.
Fun filled Koyomi market.
This year, we had long rainy season and really humid like tropical climate.
It's a really rare for Hida area, here is basically dry and cool.
We got caught in a sudden rainfall on that day.
Nomura farm grow traditional vegetables and western one.
Almost all vegetables are organic.
I bought white corn.
Also I bought bread from Nagano for my son.
Furthermore, bought ichiri's original chai and taco seasoning!
Kids found insects…
They also found flogs and started hunting…
I got good things and they enjoyed catching flogs, it was a happy day!
(Of course I suggested let it go.)
Let's check next market from ichiri's FB!