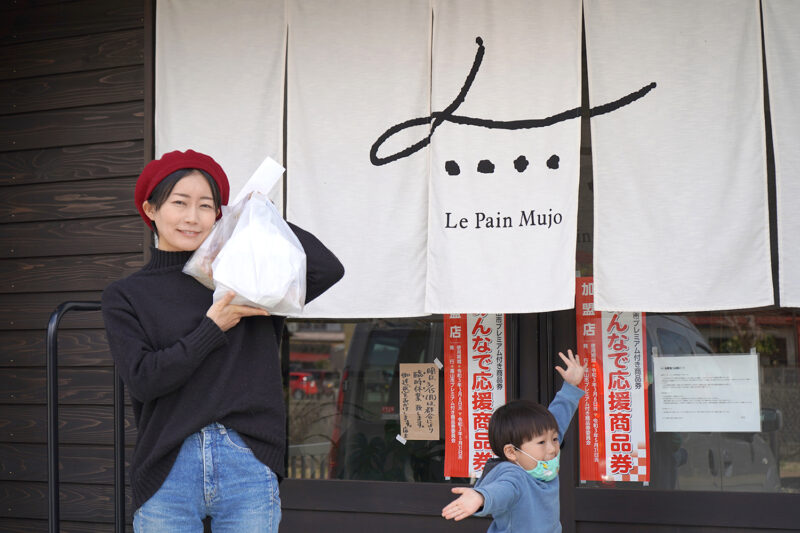 I went to Stone baked breads and sandwiches "Le Pain Mujo " in Ohshin-machi, Takayama
I heard that a brand new bakery was opened so I went there immediately.
Stone baked breads and sandwiches "Le Pain Mujo "
Anyway, I like this bakery's name.
I heard the rumor that the bakery was really crowded like two hours waiting, so I decided to go after a while.
It located about 15 minutes by walk from Takayama station.
It's along Miyagawa morning market and close to huge Torii.
They offered many kinds of breads!
Some of these are baked by stone oven, Croissant, Sandwiches…
I was so wavering.
I would like to buy all of them.
Finally I chose some.
I can't wait to eat these!
The bakery make your day!
I bought six breads.
I had a nibbled of a potato focaccia and allergy free plane bread for my son.
These were taste good!
Croissant was awesome as well!
Sandwich.
I also bought another one and I like both!
This cinnamon beyond my expectations.
It's gonna be match with English tea!
I've put the bakery on my favorite list.
I would like to go picnic with their breads.
※追記
この記事で紹介したLe Pain Mujoさんですが、
しばらくの間、お店をお休みするそうです。
「色々整ったら、再開します!」
ということなので、再開を楽しみにInstagramチェックしましょう!
informaton
Le Pain Mujo (ル パン ムジョー)