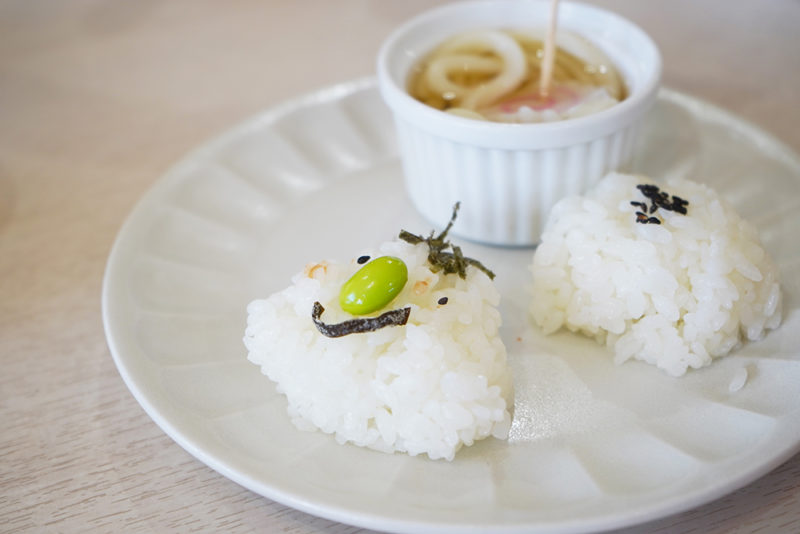 My son suddenly said that I'll off to AN for lunch, so we went there.

AN is 20 minutes from Hida Furukawa station by foot also 5 minutes by car. We walk toward to the northwest, pass by Hida Furukawa post office and straight down more 10 minutes.
We recommend "Italian". All of Japanese call the spaghetti "Italian"(or Napolitan. It's used to mean for the same meal) is a ketchup based spaghetti. It includes stir-fried vegetables such as onion, green pepper, carrot and sausage. It's really popular in Japan. The name is really weird, I don't know why it called Italian or Napolitan.
Also they have some kid's and baby food menu!

My younger boy, 2 years old ordered onigiri, udon, jelly and drink. Older boy,6 years old ordered kid's Italian and drink. Of course I choose Italian on an iron plate.
Scrambled egg under the spaghetti. The style is really popular around this district in Japan.
Eat the meal while it is hot.
My husband choose daily menu, Beef tendon curry. They also have butter chicken curry, green curry and so on.
Their desert is …
Their parents run Okubo Seika Sweets Shop so they offer that's sweets in the restaurant.
The cream is less sweetness, it's my favorite!
They use original sweet bean paste for break fast and parfait. It is made in Okubo Seika Sweets Shop as well.
I reccommend to go with kids, cafe time, for breakfast… Thank you An!
informaton
An
68-7 Shimokita Furukawa Hida Gifu