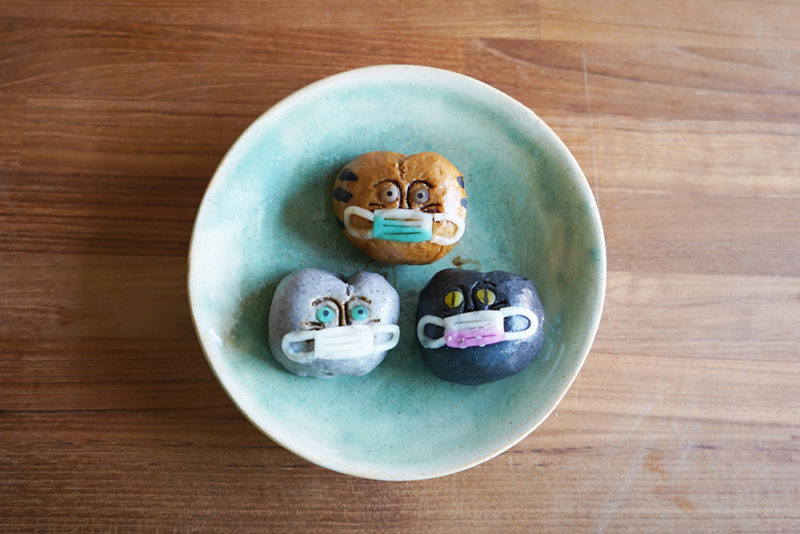 I went to "Toho-en" to buy "Down with COVID-19 MANJU"
It's on the way to old town, there is Toho-en. This is a Japanese traditional confectioneries shop.
One of the most popular their product is 'good luck cat Manju'. 'Manju' means sweet bun filled with a sweet bean paste. It is the most traditional Japanese sweets. That one with a high reputation because of the shape is so cute. I heard that they produced new one, the cat put a mask on! I just went out and bought it!
Go out the east exit of Takayama station and turn left and walk to first signal. Then turn right and go straight down Kokubunji street about 6 minutes in a direction toward old town, you will find the shop. It takes about 10 minutes from the station.
This sign "豊" is a landmark of the shop.
It has been in business over 100 years.
They sell Santa Claus and reindeer one for Christmas season but this case is unexpected. I choose mask one without trace of hesitation.
It doesn't have egg so my son who has egg allergy was able to eat.
I scarfed those down with iced coffee which is made by my husband.
It's tastes good!
They will be sold limited edition for each season. You can get information from HP and SNS.
They have a long history and a playful spirit.
Thank you for the wonderful meal!
informaton
Toho-en
2 Asahimachi Takayama Gifu