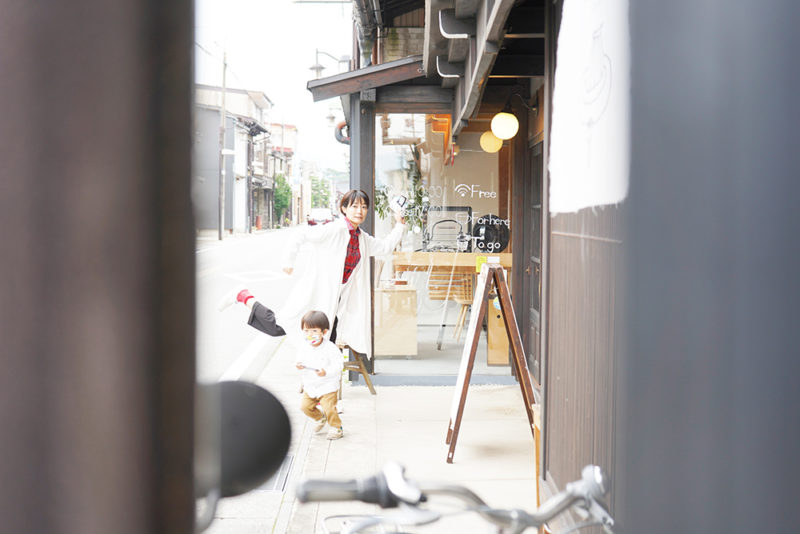 We went the cafe,"FabCafe Hida".
We went to "Fabcafe hida" at Furukawa-cho, Hida City.
They have no car park so you should park Hida City Hall's free parking lot if you come by car.
The cafe is located in Ninomachi, Furukawa and you'll go in the direction of Setogawa river for 7 minutes from Furukawa Station.
Actually, here is one of my place.
Today, I enjoyed coffee and sweets.
Traditional building, fabrication machine and good coffee!
This architecture is couple of hundred years but they have latest fabrication machine!
You can experience making wood chopsticks, stamps and so on.
It's cafe time.
My husband chose Lindera Umbellate milk tea.
Umm, Smells good!
I ordered cafe au lait and Canele.
It was little bit crispy outside and rich and moist inside.
I like plane flavor but limited one is good as well!
A cafe au lait was goood!
They offer in brewing coffee using a pour over.
This splendid beam is a feature of traditional architecture of Hida.
My son was satisfied because the staff was nice to him.
The cafe is in a tourism area so I recommend to go for a short break.
In addition, they have an accommodation!
informaton
FabCafe hida
6-17 Ninomachi Furukawa Hida Gifu